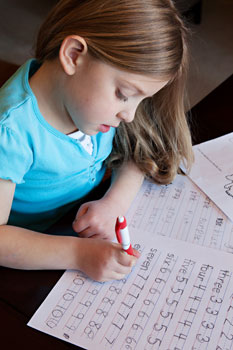 David Sharp was teaching his daughter, Emily, who was four-years old at the time, how to handwrite. They were working on her school assignment, which was to trace the dotted letters on the paper she had brought home. The practice sheet had been copied many times and was a little difficult to read. Dave thought that he could create a few sheets that Emily could use and he would make them about things Emily enjoyed.
Dave realized after creating just a few dotted words, by hand, that it was very time consuming and tedious. He assumed that there was somekind of software available to make the task easier. After searching the Internet, he found nothing that had the features and options he wanted. He decided to create his own software and call it StartWrite Handwriting Software. To see if the idea would be useful, he questioned several school teachers he knew whether they would use this kind of software. Their reactions surprised him. Not only did they think the software would be good for them, they wanted him to sell it to them immediately. So Dave listed all the features and options he wanted and showed them to his friend Wayne Wylie. Wayne is really the creator of StartWrite because he is the amazing programmer that brought Dave's idea to life. With Wayne's professional programming abilities and Dave's idea and design, StartWrite was born.
Today, StartWrite Handwriting Software helps parents and teachers create fun, enjoyable handwriting practice sheets easily and quickly. StartWrite can save hours in preparaing a lesson or creating a complete handwriting curriculum. It allows you to create meaningful and fun handwriting practice sheets. StartWrite allows you to create whatever your student or child needs by focusing on their interests rather than just having a bunch of dotted letters that don't mean anything to them. StartWrite is now available to anyone and everyone who wants to help a child, a student or even an adult learn to handwrite or improve their handwriting.